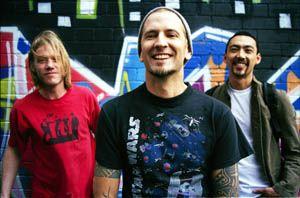 New Album Mishmash Of Talent


Who: Regurgitator, 1200 Techniques, Butterfingers, Koolism, The Hot Lies, Maya Jupiter, Gazebo, Px, 1/2 Shot And Ionic
What: Alive Festival
Where: Newcastle Foreshore
Author: Jade Lazarevic
When: Saturday November 6, 2004
EXPECT to see a long list of credits on in the liner notes of REGURGITATOR'S new album Mish Mash when it is released on Monday.

The album is the result of the band's famous three-week recording session inside a perspex ``bubble'' in the middle of Federation Square, Melbourne.

Thousands visited the site and inspired the band.

People offered to donate everything from lyrics to artwork and their own musical talent to the project and many of those offers were accepted.

.Many of the offers were accepted which meant the band had a lot of people to thank on the album. ``People were really positive and helped us out. I think they are the ones who made it such a pleasurable experience,'' BEN ELY said.

``There's one song on the record that we wrote from the lyrics a kid sent in and we had a lot of performers who turned up to play on each song, so every song sounds kind of different.

``We called the album Mish Mash because it's like a mish mash of art styles and sounds.

``The cover of the album is a collage of all the drawings we received'' Although locked away, Regurgitator still had some contact with the outside.

SUPERGRASS, MOLLY MELDRUM and JOHN SAFRAN were among those who visited the bubble.

and at one point, a drunken intruder forced his way in. Ely said the band would jump at the chance to do it again and had considered taking the bubble experiment to Japan for its next album.

``Hopefully we'll try and get an album done in Japan in a bubble but we'll have to look into that,'' Ely said.``It might be hard but we got this first project done so I'm sure we could do it again.'' Regurgitator recently headlined the ROCKIT FESTIVAL in Hong Kong and returned to Australia to tour.

Catch Regurgitator at the ALIVE FESTIVAL, a free all-ages event across two stages at Shortland Lawn, NEWCASTLE FORESHORE on Saturday.

Other acts include 1200 TECHNIQUES, BUTTERFINGERS, KOOLISM, THE HOT LIES, MAYA JUPITER, GAZEBO, PX, 1/2 SHOT and IONIC.