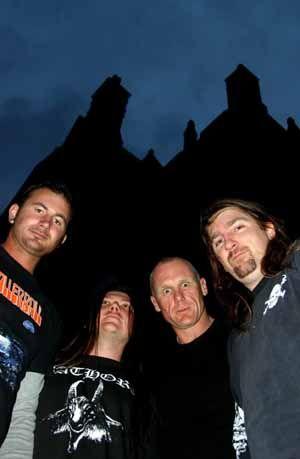 Pub To Ring With Pulse Of Metal


Who: Cyndustry, Daylight Robbery, Foreshadowed, Dramatronic, Golgotha Method, 7th Eve, Stonemason, Akuma, Nacromist, Inane Eminence And Osmium Grid
What: Metal Bloody Metal
Where: Marquis O'Lorne Hotel
When: Saturday September 25, 2004
PS9EXPECT to hear nothing but hard-hitting metal during the second instalment of METAL BLOODY METAL at the MARQUIS O'LORNE HOTEL on Saturday.

Metal Bloody Metal was such a success last year that it encouraged organisers to return with another huge line-up of acts from Newcastle, Sydney, Wollongong and the Central Coast.

The quality of acts has been improved this year and will include performances from established acts and younger bands. One is of the acts appearing at Metal Bloody Metal will be CYNDUSTRY , formerly known as SATIVA, which formed in 2000.

The band revamped its music and image to become Cyndustry in 2002 after several line-up changes.

The release of the Beneath Skin EP in July 2003 topped the MP3.com metal charts.

Cyndustry draws inspiration from a variety of genres, moulding intensity with melody, and has supported the likes of SEGRESSION, JAPUNGA, DAYSEND and JERK along the way. Representing the league of new acts is PULSE. The Newcastle-based four piece was formed from the ashes of HEADROOM and hopes to take on the metal scene in Sydney and abroad.

``We love the live stuff and I reckon that it wouldn't matter if we were playing to two drunks in some dingy bar down town or to 20,000 punters at a festival, it would still be the same,'' frontman MAX said. ``Four guys on stage giving 100 percent to the music.'' Pulse takes its influence from a broad range of acts such as JIMI HENDRIX, NIRVANA and BLACK SABBATH, is in the process of releasing its self-titled debut EP.

Metal Bloody Metal will also feature DAYLIGHT ROBBERY, FORESHADOWED, DRAMATRONIC, GOLGOTHA METHOD, 7TH EVE, STONEMASON, AKUMA, NACROMIST, INANE EMINENCE and OSMIUM GRID. Doors open at 11am and tickets cost $15.