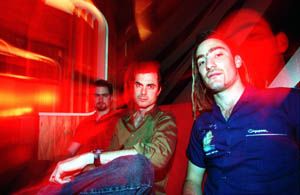 Jazz Stretched to the Limits


Who: Salamander, Funky Do Das, Michael Pign, Guy Sextet, Monsieur Camembert, Fish Fry, Klezmer Connection, Frangipani, Dixieland Jazz Band, Short & Horny, Preservation Jazz Band, George Washingmachine
What: Morpeth Jazz Festival
A MIX of contemporary and traditional acts will take part in the MORPETH JAZZ FESTIVAL this weekend.

The two-day festival will feature a variety of local and national acts including Perth act SALAMANDER .

The trio will perform as part of its FORGOTTEN MEMORIES TOUR to celebrate the release of its debut album Adapt and the new single Forgotten Memories .

Salamander is essentially made up of NATHAN WINTERFLOODS, PETER JEAVONS and MICHAEL PIGN aac GUY , but performs live as a seven piece.

``The core of the group is made up of Peter, Michael and myself,'' Winterfloods said.

``We come up with a concept for the tunes while the rest of the band act more as session musicians.

'' Salamander is a modern group that combines the production of club-style beats with traditional jazz styles, resulting in a fusion of hip hop, electronica and jazz.

Winterfloods said the band aimed to introduce traditional jazz fans and electronic fans to a new sound.

``It's working both ways really because we're bringing all of these jazz flavours to a new audience.

``Hopefully those who listen to a lot of dance music will start to listen to the jazz element as well and be in tune with the musicality of it.

``The other side to that is that the jazz audience will be brought something a little bit more contemporary.

'' This weekend, Salamander will share the stage with the likes of FUNKY DO DAS, MICHAEL PIGN aac GUY SEXTET, MONSIEUR CAMEMBERT, FISH FRY, KLEZMER CONNECTION, FRANGIPANI, DIXIELAND JAZZ BAND, SHORT & HORNY, PRESERVATION JAZZ BAND, GEORGE WASHINGMACHINE and more.